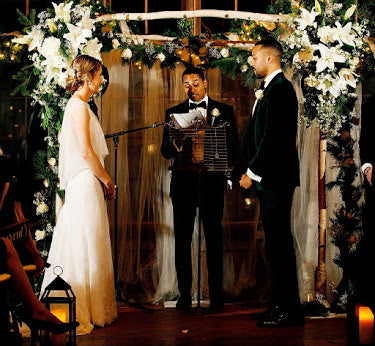 Leibys Flowers...If you're planning a wedding with lots of personal touches ; you're getting married the same month you and the groom met three years ago! Wearing Mom's veil! Serving the cocktail you had the night he proposed! Think about personalizing your flowers too. But instead of basing your choices on color and style alone, let the blooms' historical meanings inform your decision too.
The "language" of flowers is a thing and has been for centuries. During Victorian times, for example, flowers were used to express emotions when words and gestures failed. Today, many couples follow this romantic practice and create bouquets and centerpieces with flowers whose meanings have some significance to them. While flowers with a love connection, like roses and carnations, are popular, there are many other meaningful traits like new beginnings (daffodil), faith (iris), and perseverance (hydrangea) to consider.
While most flowers have good vibes and positive sentiments, you'll want to steer clear of those whose meanings have a negative association. "Color plays a substantial role in a flower's meaning too. Everyone's favorite wedding flower, the rose, has different meanings depending on the hue. While a red rose symbolizes passion, a white rose means purity and a pink one signifies joy and admiration. The same goes for hyacinths: The white variety means loveliness, the blue kind represents constancy.
Whatever sentiment you want to convey on your wedding day, there's sure to be a flower to fit your need. Just like every picture tells a story, every flower has a story to tell too.
100%
Satisfaction
Guaranteed
SAVE
At Least $15.99
No Service Fees
100%
Florist-Designed
Hand-Delivered